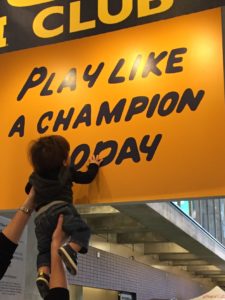 I just love the start of a new year.
This time every year, you find people seeking out the best of themselves. We all take a minute to stop-down and survey what is working in our lives and what is not. What do we need to work on to make us better people? What goals do we need to set for ourselves in order to live a fulfilled and content life? And most importantly, what relationships do we need to work on when it comes to family and friends that matter the most? Granted we should do this throughout the year, but at least January gives us a starting point for those that don't know where or how to begin to get on the right path.
You have to love the positive vibes put out everywhere this time of year. Across television and social media there are reports on how to improve your life, be more present, achieve goals, eat clean, work out, etc. etc. You name an idea you have in mind, and NOW is the time to take those first steps toward achieving the goals you set for yourself. It's a time of motivation and inspiration. And it's so consuming that it's almost impossible this time of year to not want to improve your life in one way or another or to set out to make things happen.
The biggest challenge of course is seeing it through. As friends and family members we need to hold each other to it! One of my goals is to get more involved in the conversations going on out there amongst all of us when it comes to news and stories we hear day to day. With that, I decided to use the platform I've established and to use the power of words through story telling or in this case, story analyzing. Yes at the very basis of it, I have decided to blog. Unfortunately the word has in some cases gotten a bad wrap because, well, just about everyone can and is doing it these days. But, my intentions are to use it as a way to inform, empower and inspire those interested. So with that, here is my 2017 resolution. It's not the start of something that counts, but the way you execute it and see it through!
"Social media is not about the exploitation of technology but service to community." -Simon Mainwaring